VCU Poster Symposium for Undergraduate Research and Creativity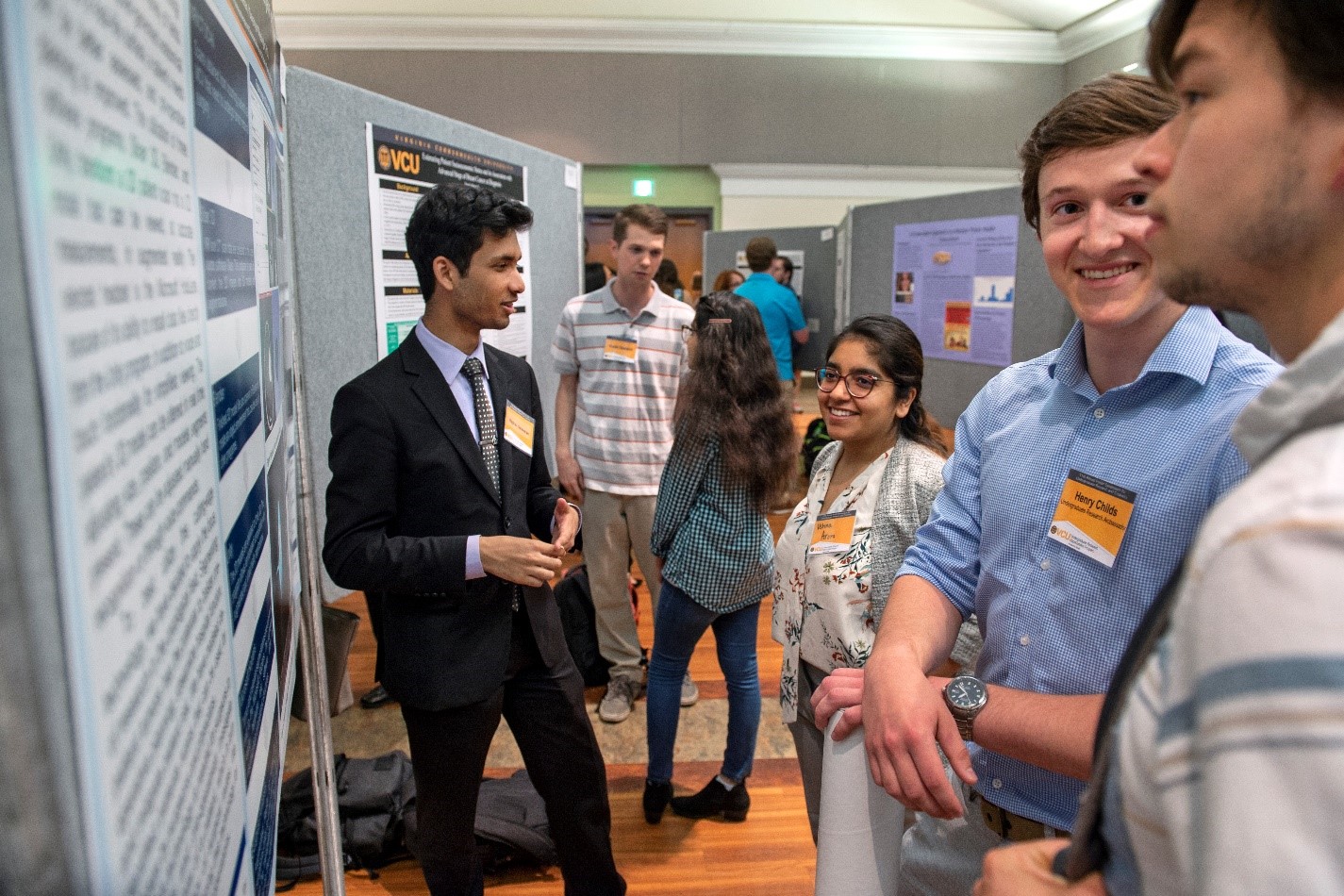 Organized by the VCU Office of Undergraduate Research & Creative Inquiry, and part of VCU Research Weeks, the annual VCU Poster Symposium for Undergraduate Research and Creativity is an opportunity for students to present their research endeavors and creative scholarship to their academic peers, members of the VCU faculty, community members, and friends and family.
All undergraduate researchers from every discipline are encouraged to present. Presentations may be for completed research projects, completed papers, or research in progress.
This year, we are offering both in-person and virtual participation options for presenters. The in-person sessions will take place on April 20, and our virtual asynchronous session will be live between April 18 and the first week of May.
To learn more about each of these participation options, please select a tab below:
In-person sessions information
Due to high case numbers and infection rates of COVID, we are currently planning to moderately limit capacity at our in-person symposium sessions. As spring semester proceeds, we will be monitoring COVID cases and will expand capacity accordingly. We will accept poster abstracts on a first come, first served basis. We are also offering a virtual session to accommodate student need. Students planning to present in-person are welcome to also submit a video presentation for our asynchronous virtual session.
Projects involving creative work such as prose or poetry, performances, and artwork are welcome if they are part of a creative inquiry project undertaken by the student. We are currently accepting poster abstracts up until the deadline of March 22, 2022. All abstracts should be submitted to go.vcu.edu/uroppostersubmit.
Please note: The in-person symposium occurs during two sessions on April 20:
Session 1: 10:30 a.m. to noon
Session 2: 1 p.m. to 2:30 p.m.
We will hold remarks at 12:30 p.m. Upon submission of their abstracts, students will be asked to choose only one session during which they will be available to present their poster.
After students are notified of their acceptance, we will accept electronic file submission of their posters. Note: We hold poster workshops Feb. – Mar. and we are able to print research posters free of cost to our students! A schedule for upcoming poster workshops will be announced shortly.
Abstracts should include:
Name/Major of student
Name/Dept. of Faculty Mentor
Title of research project
Brief description of research project
Please direct any inquiries to urop@vcu.edu.
Virtual session information
The Office of Undergraduate Research and Creative Inquiry is partnering with Forager One to host the Virtual Session of our annual Symposium for Undergraduate Research and Creative Inquiry.
Asynchronous video presentations will make up the sessions for all presentation types included in our Virtual Session. The event webpage will be available to the VCU community and members of the public. Therefore, it's important that you talk with your faculty mentor to ensure that your video includes information that you have permission to share. They may have advice for you as you create your presentation, and they should approve your finished presentation before you upload it.
Presentations can take the form of a narrated poster presentation or a recorded slide-presentation.
The deadline for submitting pre-recorded presentation files is April 11, 2022 at 11:59 p.m.
**Note: The submission site link below is different from the Virtual Session website. We will share our Virtual Session link leading up to the week of April 18, at which point the site will be open to the public.
Submit your abstract and pre-recorded presentation file through our Symposium Presentation Submission form.
Presentation assistance, poster templates, and instructions to submit abstracts/video presentations can be found on our Undergraduate Research Virtual Session Presentation Guidelines.
If you have questions, email us: urop@vcu.edu.