VCU Poster Symposium for Undergraduate Research and Creativity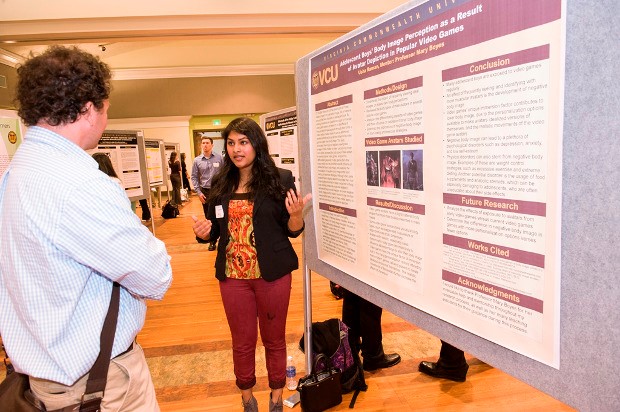 Organized by the VCU Undergraduate Research Opportunities Program (UROP) and part of VCU Research Weeks, the annual VCU Poster Symposium for Undergraduate Research and Creativity is an opportunity for students to present their research endeavors and creative scholarship to their academic peers, members of the VCU faculty, community members, and friends and family. All undergrads from every discipline are encouraged to present and attend. Presentations may be for completed research projects, completed papers, or research in progress.
Projects involving creative work — such as prose or poetry, performances, and artwork — will be considered for acceptance if they are part of a scholarly project undertaken by the student.
How to participate
We are currently accepting poster abstracts up until the deadline of March 22, 2020. All abstracts should be submitted through our online form.
Please note: We will divide the symposium into two sessions this year. Session 1 will be held from 10:30 a.m. to noon. Session 2 will run from 1 to 2:30 p.m. Brief remarks will be held in between, at 12:30 p.m. Upon submission of their abstracts, students will be asked to choose only one session during which they will be available to present their poster.
After students are notified of their acceptance, we will accept electronic file submission of their posters. Note: We hold poster workshops from Janurary to March to help guide you, and we are able to print research posters free of cost! A schedule for upcoming poster workshops will be posted on the UROP blog in early February.
Abstracts should include: the name and major of the student, the name and department of the faculty mentor, the title of the research project, and a brief description of it.
Questions?
Contact us at urop@vcu.edu.