Opportunity Audit (REAL inventory)
Developed by the 2018-19 REAL Task Force, a 27-member team comprised of faculty, staff, and students, the Opportunity Audit launched in February 2019 and marks an important step toward mapping the experiential learning ecosystem at VCU.
The audit allows programs throughout VCU to have their activities included and counted to collectively establish a comprehensive baseline for experiential learning; identify opportunities for scale, development, and specialization; build a Banner attribute coding system for courses; and identify processes and tools for tracking and transcripting co-curricular activities.
Implementing the audit required the review of over 900 courses and assessment of over 250 co-curricular activities. The reviews were initially conducted by members of the REAL Task Force. The results of the initial analysis were revised and vetted through individual meetings with each of the colleges/schools/units where definitions were fine-tuned and general guidelines were developed.
Get your courses counted!
To make sure your courses are counted in the REAL inventory, please email Erin Webster Garrett, assistant vice provost for REAL, at real@vcu.edu.
Please note: The designation process and its integration with CIM will be under the purview of the REAL Council beginning January 2020. To avoid having to go through its formal process, please make sure your information is up-to-date before then so it can be grandfathered in!
Frequently asked questions
Experiential learning has many different definitions, but at its core involves an integration of disciplinary knowledge and intellectual skills with "real-world" experiences. For the purposes of the audit, the REAL Task Force adopted an approach that recognizes that experiential learning looks different depending on the discipline and context of the program. In addition, we recognize that experiential education occurs along a continuum that should, in best practice, prepare students to take increasingly autonomous and empowered roles in their own educational processes.
We looked closely at programs where experiential learning already has a strong footprint and history, and noted that as a common practice assignment scaffolding puts learners in progressively sophisticated environments where students have opportunities to independently apply what they know and receive structured feedback on areas of strength, places for continued improvement, and guidance on future goal setting, including career/professional preparation. This, to us, is the gold standard we want all VCU students to experience.
There are four REAL levels, with levels assigned based on the degree to which 4 signature pedagogies are present: hands-on learning, reflective practice, mentoring, and integrative learning (also called connected thinking in some circles).
The use of levels in our classification process allows us to capture not only high level "learning by doing" experiences (Levels 3 and 4), but those foundational courses or activities that prepare a student to engage successfully in advanced hands-on activities (Levels 1 and 2).
There is no assignment of evaluative or hierarchical value through classifying an activity as a particular level. Rather, the levels suggest a continuum from exploratory types of activities through experiences where students are exposed to professional environments and provided opportunities to demonstrate their skills in authentic, real-world contexts.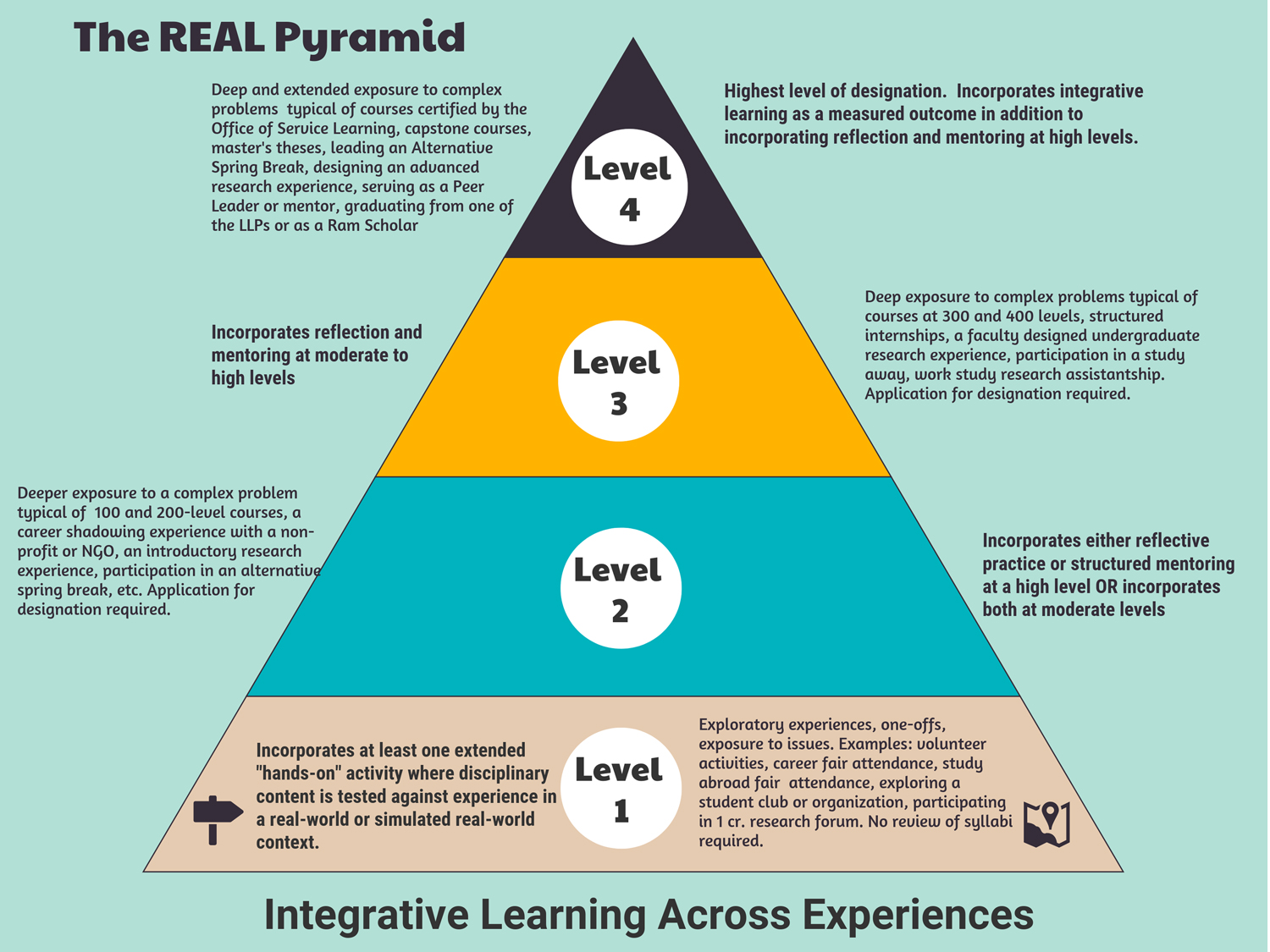 The levels and types were assigned in collaboration with representatives from each of the colleges/school/units. These representatives were nominated by their deans/directors or the equivalent for non-academic units. The REAL Task Force charged with initially reviewing and "tagging" the courses included 4 faculty representatives, each of whom was involved in the evaluation process and the design of the audit methodology.
Eventually REAL will be listed as one of the special attributes by which students can search for course. In addition, REAL courses will have a notation in the Attribute box of the course description.

The audit classifies courses by the base or threshold level of experience any student enrolled in a course can expect to receive, regardless of section, instructor or mode of delivery. In other words, the audit looks at courses, not at sections. The level of complexity in leveling and classifying experiential opportunities rises exponentially if sections are treated differently. Moreover, our goal is to create an environment where all students have access to experiences. To put a corny spin on our approach, we want programs to "level up" courses if they wish to do so, but more importantly we want to create a "level playing field" where all students have an opportunity to be engaged in applied learning experiences relevant to their personal and professional goals.
One important exception: Those sections that have been tagged through another classification process, such as that offered through the Office of Service Learning, retained their tags and were included in the audit.
Specific guidelines
The following were developed and adopted in consultation with schools/colleges/programs:
Labs
Not every college or department chose to capture labs in this audit. We follow the guidance of the academic unit on this. Those areas that chose to tag Labs generally agreed that a lab will be a Level 1 experience, hands-on but a very controlled and scripted experience. Higher levels have been assigned in some cases. It all depends on the specific details of the lab.
Study abroad
Because of the great variability in the kinds, expectations, and nature of study abroad, these will also be a Level 1, though again it may vary. We know this is going to cause some consternation and will be seeking ways to better classify and differentiate study abroad experiences as we go forward.
Independent Study
Typically the default level for these will be Level 2 because it is assumed the student will have direct engagement with designing a project and feedback from a faculty mentor. However, some categories of independent study courses will default to Level 3 because of a standardized expectation of reflective practice and mentorship.
What level are service learning classes?
The default level for these will be Level 3, unless the primary type of that particular service learning opportunity already has a higher level.
What level are practicums or clinical experiences?
The default level will be Level 4. However, if they do not incorporate reflection or integrative learning as an embedded or assessed activity, they will only be assigned to Level 2 or 3. This, again will vary on the type of experience and the expectations set by the academic unit.
Graduate courses
Most but not all graduate programs chose to classify their courses during this first phase. Based on the results of those that did and in consultation with the graduate programs, a graduate taxonomy will be developed with refined definitions relevant for students engaging in graduate experiences.