Assessment of student learning outcomes
Assessment matters at VCU
At VCU, we assess the learning we expect students to achieve for three reasons:
We are committed to the integrity of curriculum. Assessment queries the alignment of the curriculum to the expected learning outcomes. Are we providing students the opportunities to achieve the learning we expect?
We want to provide evidence-rich accounts to VCU stakeholders of our students' learning and of our stewardship of the curricular and co-curricular programs that we have constructed for their learning. Assessment marshals the evidence with which to provide compelling accounts to our university colleagues and to families, accreditors, and the Virginia Assembly. Students are our most important stakeholder and assessment accounts should furnish them too with clear accounts of their program's expected learning outcomes. Students, furnished with a deeper understanding of their learning, can explain to employers and graduate schools what their degree means. All stakeholders are eager to see and understand our students' learning.
We assess to get better for the sake of our students' success. Specifically, we want to know where we can make improvements in the curriculum and co-curriculum for the sake of our students' learning. Assessment pinpoints where students are and are not achieving the learning we expect. What is to be celebrated? What changes can we make towards improving student learning?
For more context on VCU's approach to assessment, see Natasha Jankowski's commentary, "Moving Toward a Philosophy of Assessment". For context on VCU's approach to assessment for student learning, read Natasha's article, "The Principles of our Practice" (a free download from the AALHE website).
Assessment as an intentional process
Assessing expected student learning outcomes requires an intentional process. It begins with faculty members identifying their common expectations for student learning, then delivering a curriculum designed for students to achieve the expected outcomes, collecting evidence of student learning, analyzing and interpreting the evidence, and using these findings to inform actions to improve student learning outcomes.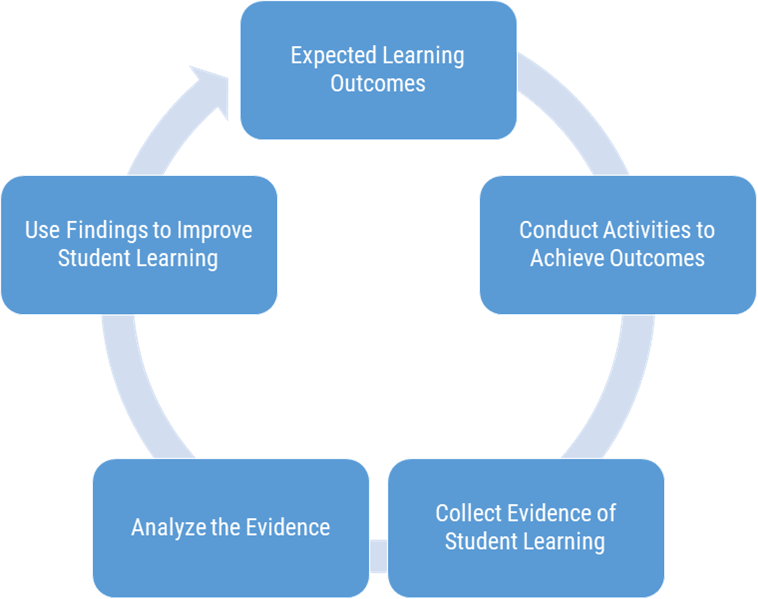 See the American Association for Higher Education and Accreditation's, "9 Principles of Good Practice for Assessing Student Learning".
Accountability and transparency
Stakeholders look for colleges and universities to make public the expectations for students' learning, to illustrate that curricular and extra-curricular programs are designed toward the learning outcomes, and to provide accounts of the learning outcomes at program and institutional levels.
Transparency and accountability regarding learning outcomes are mandated by the Southern Association of Colleges and Schools Commission on Colleges (SACSCOC) and the State Council of Higher Education in Virginia (SCHEV). SACSCOC identifies using assessment to improve student learning outcomes as a hallmark of effective institutions, and as the SCHEV assessment policy observes, "Quality assessment helps institutions communicate their value. By appropriately sharing information about assessment findings and plans for improvement, institutions contribute to building public trust in higher education."
Find out more about what SACSCOC and SCHEV say about accountability, transparency, and assessing to improve student learning.
Read about accountability as a form of storytelling in Lee Shulman's Change Magazine article, "Counting and Recounting: Assessment and the Quest for Accountability."
Contact
Please direct questions to Katrice Hawthorne, Ph.D., assistant vice provost for assessment and institutional effectiveness, hawthorneka@vcu.edu.