Experiential learning initiative continues to take shape after town hall
March 6, 2019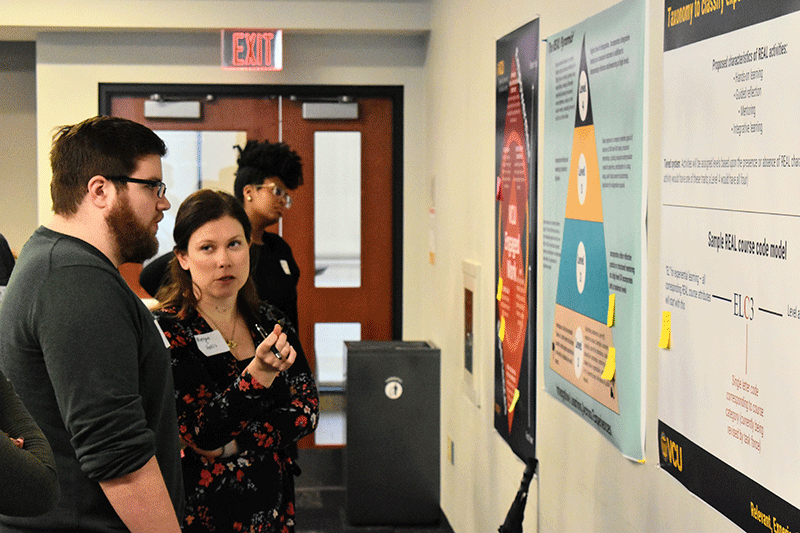 VCU's REAL intiative continue to progress towards its fall 2019 soft launch goals thanks to a universitywide town hall held on Feb. 28.
At the interactive event, faculty, staff and students all responded to the work done on REAL to date. Town hall attendees provided feedback in three distinct ways: by posting comments directly on infographics at the event, in small group breakout sessions with a REAL task force faciliator, and via a follow-up survey sent out after the event
What we heard
A number of common themes popped up repeatedly among our town hall groups. Broadly, key focus areas included:
Accessibility and equity for students
The challenge of engaging students and faculty in REAL
The taxonomy that will be used to tag activities as being part of REAL
The use of e-portfolios
Connecting experiential learning and social justice
Badging and credentialing
Governance of REAL
If you'd like to see the comments we heard at the town hall in more detail, please read our full REAL town hall notes. (Special thanks to the amazing Joseph Maltby for compiling these!)
How your input shapes REAL
Among the next steps the REAL task force will be taking as a result of the town hall and other VCU community feedback include:
Exploring badging and credential innovation
Exploring an experiential learning database solution
Emphasizing that the taxonomy is faculty and administrator facing in subsequent communications with faculty: this is a snapshot of how well we are doing in providing the opportunities, and a score card for the institution
Continuing dialogue with VCU faculty, staff and students at a poster session scheduled for April 5
Holding a town hall for the greater Richmond community, scheduled for May 1
Holding a Faculty Institute on Reflective Practice, scheduled for May 16
Developing Faculty Fellows/Ambassador program to serve as liaisons in the colleges/schools and units (pending budget initiatives)
As you can see, your input is directly helping shape REAL, So please, continue to give us your feedback by emailing real@vcu.edu, or by setting up an appointment with Erin Webster Garrett via her YouCanBook.me account.