Making Reflection Real
May 29, 2019
Hands-on workshop illustrates the importance of reflective pedagogy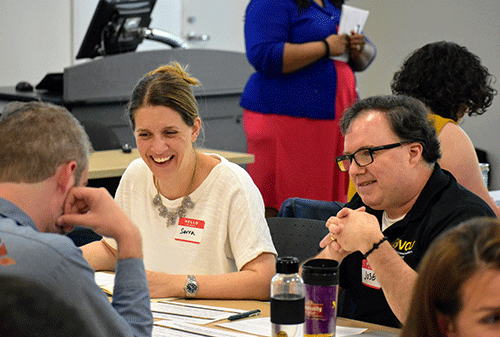 More than 60 faculty and staff participants across campus filled the VCU Globe building on May 16 for Making Reflection Real, a highly-interactive workshop centered around the importance of reflection in teaching and student mentoring.
The half-day event, a partnership between REAL and the Division of Community Engagement, regularly put participants in their students' shoes through a handful of reflection exercises.
One such activity, led by VCU ASPiRE director Erin Brown, saw attendees write "I am" poems describing the many facets of their identity. Another, led by the assistant vice provost for REAL, Erin Webster Garrett, had participants select values important to them, with decisions being made more difficult by an ever-narrowing list.
For such exercises, it was the process, rather than the results themselves, that mattered most. The facilitators modeled what an effective reflective classroom looks like, such as establishing a safe environment for students to create and share, and emphasizing the importance of respecting one another's privacy.
"We really wanted our participants to get some perspective about what their students go through in doing reflection," Webster Garrett said. "Reflection is not the soft, touchy-feely activity its made out to be. Instead, reflection is really the process of creating knowledge, of connecting experiences and learning how to self-educate. So it's actually quite hard work."
In addition to the hands-on activities, Lynn Pelco, associate vice provost for community engagement, and Katie Elliott, associate director of service-learning, provided participants with an overview of the theoretical and research support for reflection in human learning.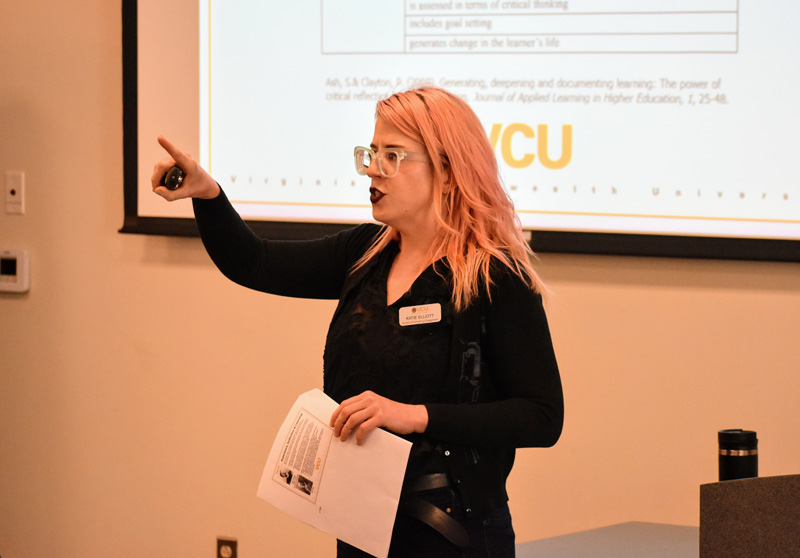 "Reflection is really about meaning-making," Elliott said. "Most people are very good at learning things academically and at doing things, at going out and having experiences — but we're not necessarily great at looking for the intersections or overlaps between those two activities unless we're prompted to do so. Reflection is that prompt."
"Intentional reflection asks you to look for those intersections between what you are learning and doing, to dig into them and seek meaning from them."
A four-person panel of seasoned practitioners, representing a variety of disciplines and units across VCU, also shared their experiences in creatively implementing reflection into their work.
Led by Fred Tugas, panelists for the discussion included Wanda Coffey (School of Pharmacy), Derek Hottell (Recreational Sports), Michael Rackett (ASPiRE) and Marcia Winter (Psychology).
"Making Reflection Real was really about discussing the "whys" and "hows" of reflective practice, and providing our participants with some strategies and tangible examples of how to incorporate reflection with their students," Webster-Garrett said.
To that end, resources provided during the workshop are available through the Making Reflection Real Google Drive folder.
Comments from participants
"The active examples were very helpful in breaking up the content and providing examples of exercises we could use with our own students."
"All speakers were well informed, clear, and concise. The three hours flew by for me and I found myself hoping that another workshop will be offered so I can attend. The workshop served me well in part by revealing how much I don't know about reflective practices for pedagogical purposes; to glimpse that wider field of knowledge is encouraging and inspiring."
"Weaving in reflection with Dr. Burke-Brown was helpful in breaking up the day and providing practical takeaways for attendees. Overall, I think this would be a really great first-step workshop for teaching faculty or others who have never considered using critical reflection in their teaching or education practice."
"Delivery was informative, clear, and friendly, as well as engaging."
"I loved that the workshop oscillated between formal presentations/speakers and activities. Really great technique to have participants engage in the reflections they might offer in class."